System Overview
Click on a
link

below for more information about a feature...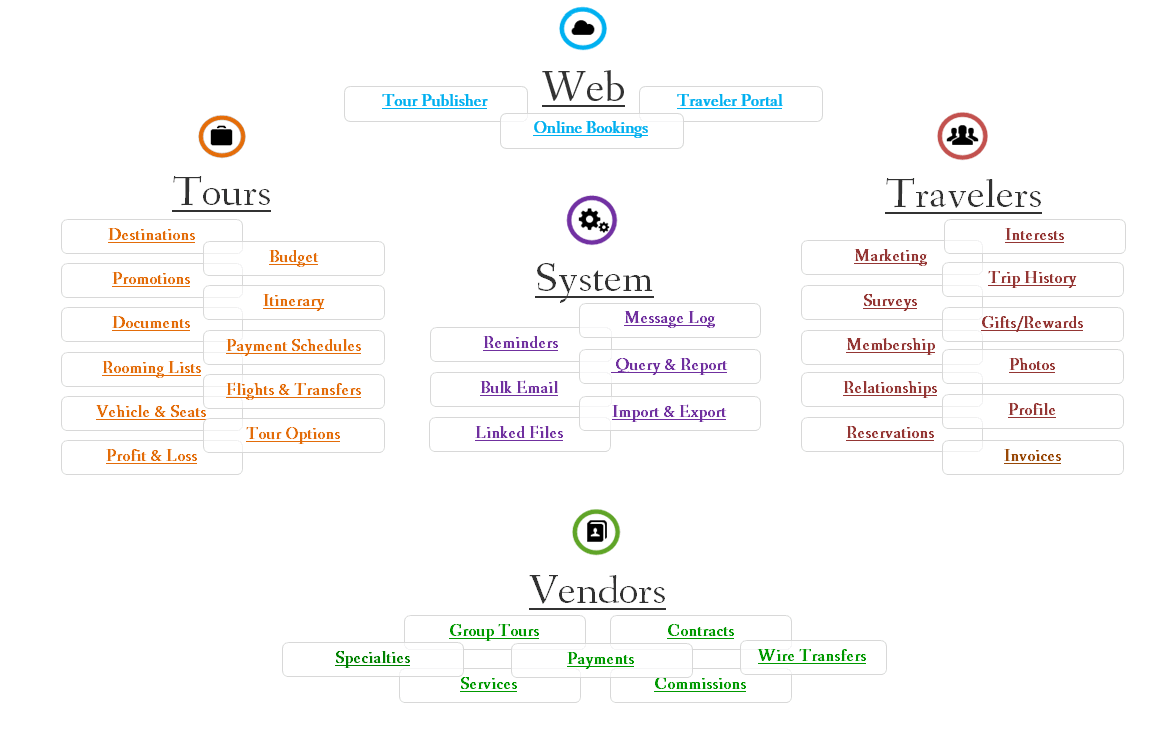 Vendors
Track any organization or person with whom you do business using ViaTour's vendors section. This entity tracking is for all business-side relationships, both when you are purchasing products or services from them, or they from you.
Vendors can include travel agents, travel planners, motor coach companies, step on guides, hotels, and groups from a school, church, museum or other organization.
Streamline operational logistics by tying vendor data into all phases of tour operations.
ViaTour is designed so you can easily:
Find vendors and staff, and communicate by phone or email or quick-print address labels
Print labels instantly for individual or group mailings
See partnering vendors for all past, present and future tours
Track your service agreements in complete detail
Record payments, including wire transfers using stored bank information for quick transmittal
Over time, ViaTour's vendor tracking equips your staff with the tools and information to better partner with suppliers and provide better service to your travelers.
Travelers
Track everything you need to know about your past, current and potential travelers.
Collect in-depth data on a per person basis without losing the ability to manage any kind of household configuration: kids traveling with mail addressed to parents, family tours, domestic partners, singles and so on.
Gain valuable insight not possible form other software systems, including:
1st time traveler analysis
Repeat travelers and trip history patterns
Retail value per traveler, and more...
Keep your staff informed with shared data and real-time reporting.
Traveler data is integrated into every facet of the process – from promotions and marketing, to interest and bookings, to reservation management, tour operations, financials, and executive analysis.
Tours
Tours in ViaTour are established with a tour ID, name and departure date, and can be created at any phase of a tour's life cycle.
Easy-to-browse screens make it simple to:
Add or edit tour data
Create templates for and copy tour data from one tour to another
View summary tour data
Analyze data and run reports based on tour data
ViaTour uses industry-specific business logic that creates fool-proof work flows protecting the integrity of your data and making it easy to make changes to multiple records, even in the event of tour cancellations.
Rich store of native content makes it easy to create tour templates or duplicate tour information, yet is flexible enough to customize when necessary.
Web
ViaTour back office, now integrates to your website using ViaTour Web Services, a single add-on application that we can host for you or that you can host.
Web Services passes data securely between ViaTour back office and your website.
What data goes back and forth?
Anything you want can be programed!
These services are built and ready-to-go:
Publish Tour Information
Take Online Bookings and Accept Tour Payments
Log in and manage "My Account" for your travelers
Publish Tour Information with images you upload, tour options and pricing, deposit amounts, payment schedules and spaces available. Everything flows live from ViaTour Back Office to your website, like a CMS, but more powerful and integrated completely.
For the Online bookings requests can flow into ViaTour, saving your staff keystrokes and allowing your business to run 24/7!
Finally, for your booked clients, "My Account" serves up all the traveler information from the ViaTour back office. Travelers can see the details of a trip, make payments and complete missing documents.
Interests
Track for each traveler where they wish to travel, what type of travel they enjoy, and any other attributes you can think of to use for marketing! There is no limit, and this same list of keywords can be used for tagging Vendors and Tours, with areas of expertise or destinations serviced.
For example, you can indicate a traveler is interested in "African birds," this Guide/Lecturer specializes in "African birds", and this Tour departure focuses on "African Birds."
Connecting travelers, vendors and tours by what they have in common allows you to market effectively, analyze accurately, and plan profitably!
Marketing
A robust reports engine and deep data collection make ViaTour's powerful marketing tools unlike any other tour or reservation software.
Save mailing and printing costs and fill tours more quickly by targeting your marketing efforts.
Create lists using ViaTour's comprehensive traveler profiles and querying interface, including:
Traveler interests and tour history
Brochure requests and trip interest
Referral or lead source
Demographic information, including geography, age, gender and more
Store customer preferences for mailings, phone and email to contact customers via their chosen method.
ViaTour Pro includes the ability to schedule promotions, track recipients, and analyze conversion rates to determine ROI.
Trip History
Track reservations to detect traveler patterns and preferences per person or in aggregate.
Target travelers with an expressed interest in or past bookings on specific tours or tour types.
Use trip history to drive marketing strategies, identify new sales opportunities, plan future tours, analyze profitability and ROI, and more.
Surveys
Create custom surveys and track traveler responses in ViaTour.
Create trip evaluations, marketing surveys and other questionnaires with a variety of reply types, including: true/false, multiple choice, or free text fields up to 250 characters.
Record traveler responses in seconds and share customized survey results (aggregated or detailed) with outside suppliers and partners.
Use surveys to drive future tour programming and vendor/supplier selection, and as part of your own continual quality improvement practice.
Gifts/Rewards
Start or manage an incentive or customer loyalty program.
Specific gifts and gift reasons are fully customizable.
Track traveler gifts by recipient, type of gift, year given, tour/gift affiliation or other customizable criteria.
Use gift history to ensure you don't inadvertently repeat traveler gifts.
Membership
For affinity travel programs, ViaTour supports your development efforts through every step of the tour life cycle.
Track membership levels, status, degree and class year information, and donations history. Member relationships allow you to view donation history of all associated travelers.
Create reports for group leaders that show special requests, birthdays and anniversaries, and VIP and Red Flagged travelers.
Photos
Link a traveler's picture with their profile, and view it on the traveler record.
Print reports with profile pictures for group escorts and tour managers or to share with the group before departure. Other custom reports available as well.
Relationships
Easily assign relationships between companions traveling together, whether or not they are in the same family or household. Define your own terms for traveler relationships, or use and modify ViaTour's extensive list.
Track companion booking from tour to tour; when companions book together again, their past relationship appears on the next tour, helping you provide better customer care.
Alumni and museum groups can view their travelers' donor history in the context of all their relationships.
Profile
Store profile information and traveler preferences for better customer service.
Display necessary profile data on relevant reservation reports, including medical history, dietary restrictions and emergency contacts.
Capture passport data that appears on driver manifests, room lists, and berthing charts. System alerts help you stay ahead of passport expirations.
Maintain distinct entries for a traveler's passport name, legal name, and preferred name or nick name, and generate name badges and other reports with the appropriate information.
Create custom data fields to store information unique to your niche market, i.e. scuba gear size, height, weight, dive certifications, etc. (PRO level only.)
Reservations
Process confirmations swiftly using easy data entry forms.
Quickly generate personalized letters and invoices for email or mail, with an option to print labels.
Provide suppliers and partners with up-to-date summary info, including counts on reservation activity, items sold, rooms needed and special requests.
Consolidate and store special requests, emergency contacts, account balances, and missing documents in one place.
No more manually counting and rechecking your hand-written lists, paper files or cumbersome spreadsheets!
Invoices
Billing in ViaTour is easy, flexible and intuitive.
Define any number of tour options (air, travel insurance, pick-up location, extensions, etc.) and sell or assign them to specific travelers.
Manage any billing arrangement: groups, families, friends paying for friends, singles sharing a room, etc.
Email invoices to groups of travelers in one step with our batch email tool.
Additional functionality can be customized for other communications like final payment reminders, membership lapses, or any tour-specific terms and conditions.
Add-on tools integrate with the popular accounting packages SAGE and QuickBooks.
Message Log
Track communications with travelers, prospects, vendors and other clients, including emails and phone calls and drop-ins and connect them with specific sales promotions.
Email reminders and other messages to your colleagues that require timely follow-up with just a click.
Generate reports that show summary and call details, including:
Return calls that need to be made by staff member
Analyze call traffic within designated time frames
Determine conversion rate of inquiries to trips booked
Track the success of promotions by number of inquiries generated
Reminders
Schedule tasks and reminders to automate work flow. A built-in calendar calculator automatically sets "smart" due dates based on tour departure or arrival dates.
Current, upcoming, and past due reminders appear on the home screen whenever you start ViaTour, so you never miss a deadline again!
Colleagues are traveling or out sick? Reassign their tasks with a single click, print their entire to do list, or email reminders to other staff.
Create standard reminder templates and copy them to multiple tours that share the same requirements, such as visa deadlines, pre-departure mailings, and post-tour evaluations. Reminders can be linked to tours, traveler and vendors, and are accessible for tracking and completion throughout the application.
Query & Reports
ViaTour reporting is one of the most capable, robust, and flexible reporting systems available. Our developers have years of experience designing complex, full-featured reports that would be cost-prohibitive to create in any other system.
Each report presents a complete and detailed set of possible selection criteria, sensibly tailored to the report data source, which allows you ask infinite questions of your data.
The longer you use ViaTour, the deeper and more extensive your data store, and as you easily and efficiently mine that data, you gain a distinct advantage over the competition.
Some of ViaTour's time-saving report features include:
Drop reusable boilerplate text, stock phrases and personalized notes into letters, invoices and other communication with your travelers and vendors.
Save your most frequently used reports under a user-specific "favorites" grouping.
Store and reuse complex criteria sets, leveraging your power-users' skills on behalf of more infrequent users (* not available in all levels).
Use ViaTour's integrated Mail Merge functionality to create forms (one per person) and letters (one per household) automatically populated with your current traveler, tour and reservation information.
Show your repeat travelers you care with a Participant Information Form, already populated with their personal information from ViaTour; they simply need to update if necessary, and sign-off!
Export report data to Excel or TXT/CSV formats from many reports, allowing you to provide data to external systems or perform additional analysis and presentation in Excel or other applications.
Hundreds of standard and customized reports are available, including mailing labels, traveler surveys and evaluations, confirmation and pre-departure letters and lists, rosters and seating charts, name badges and luggage tags, and much more.
Bulk Email
Imagine you could have the ease and functionality of an online e-mail marketing platform like Constant Contact, My Emma or Mail Chimp integrated completely with your back office operations.
ViaTour's Email tool does just that! It is completely integrated and runs directly from our reports interface.
Using our Robust Query Engine and integrated Promotions Tracking, you can send beautiful, personalized traveler emails that automatically include names and tour information (similar to how Mail Merge works.)
You can even add multiple attachments, like invoices or other ViaTour reports. Personalized email merge means the traveler sees only his or her invoice as a PDF attachment, uniquely named and saved.
This feature allows you to deliver faster and more efficient customer service and save on postage. And your business will look more professional and environmentally responsible by wasting less paper.
Linked Files
Link any website or document (Word, Excel, JPG, PDF, etc.) with a Traveler, Tour, Vendor, or Reservation record.
Save time and keep your staff on the same page with "quick access" to current itineraries, contracts, lecturer CVs, ship deck plans, and more.
Link to web pages for easy access to destination and supplier data, weather, government news, CDC advisories and more.
Link images used in promotions, photos of travelers, and more.
Import & Export
Import tools are available as add-on applications to keep the ViaTour data linked to other systems (membership, accounting) or to import traveler lists from Excel.
ViaTour integrates beautifully with Outlook, Word and Excel. With a right-click your reports can be exported or emailed very easily.
Additionally, we have documentation and training support for advanced querying from Excel.
The ViaTour reports engine and query window lets you ask infinite questions, and see results in over 200 easy to understand reports that support marketing, operations, reservations, financials, and more.
ViaTour's Dynamic Reports engine lets you see data in aggregate and then drill down, for a more powerful user interface and dashboard experience.
Our Mail Merge feature lets you create customized letters using tour specific information that's personalized for each traveler and/or household. If you have used MS Mail Merge wizard, you know it can be quirky while coordinating the Excel data (filter, sorts and rules), and that outputting letters is cumbersome at best. We designed the ViaTour Mail Merge tool to be fool-proof. It is literally as easy to run as any canned report in ViaTour and it gives you the power of customizing how you display your data to your clients, without the expense of having a developer create specific letters for you over and over.
We have standardized and customized solutions; let us know what you need.
Destinations
Define tours by Tour Type and Tour Class to create organized and cohesive programs and packages.
Need more information? Use Tour Destinations and descriptors to DESCRIBE them, because you can add unlimited descriptors to a tour!
Set values you want to track, link one or more to a trip, and use this to search and find trips as well as to filter reports!
This is completely customizable. Here are some examples of categories and descriptors or destinations you might want to setup and track:
Continent: No. America, So. America, Africa, Europe, Asia Antarctica, Australia
Theme: Food, Performance, Sport, Casino, Mystery Tour
Activity: Biking, Walking, Scuba Diving, Kayaking, Fishing, Rafting, Safari
Target Group: Active Seniors, Adventure, Young Family, LGBT, Culture
Focus: Art, Architecture, Gardens, Nature, Gorillas, Conservation, Volunteer
The only limit is your imagination!
Budget
Budget tracking allows you to compare your initial projections established during the costing stage to live activity of a tour's income and expenses.
Forecast or "adjust" the budget as variables come into play due to enrollment, cost changes, currency fluctuations and more.
Track budget line items according to user-defined account codes for easy correlation with an external accounting system.
Budget is linked to live bookings and tour services (your accounts payable for the tour) so at any given moment you can see where a tour stands financially.
Promotions
Stop wasting time, effort, printing and postage costs where it is not paying off! Promote your business, services and tours more effectively and efficiently with ViaTour's industry-leading Promotions tool.
Track promotions to make sure you're getting the most from your marketing dollars!
Promotion types you can track include newsletters, catalogues, email blasts, brochures, post cards, advertising and more.
Scheduling helps you stay on top of all your tasks by letting you set milestones and reminders. From creating content and proofing copy to pulling mailing lists and making labels, ViaTour has you covered.
Track exactly when something has mailed or is scheduled to hit so you know what's coming down the pipeline in terms of potential calls, bookings and more.
Assign the cost, quantity, and mailing list used to each promotion and take the guesswork out of calculating your ROI!
Easily track phone calls, trip interest and confirmed bookings.
With promotion history, you can analyze your lists to determine active responders, the "sometimes" and "maybes" and even the "dead wood."
Itinerary
ViaTour services help you cost out a tour and adjust from any side of the equation: minimum bookings, sale price, or costs.
Once a tour is underway, services integrate with financials so payments to vendors can be processed seamlessly.
Services also provide your tour manager with an "on the ground" operational itinerary, displaying all contract and payment details, timing, location, and much more.
Professionally designed itineraries intended specifically for giving to each traveler are also easily generated from this feature.
Documents
ViaTour tracks Tour Documents and other communications that need to be sent to all travelers.
You name the documents (Mailing one, Final Mailing, Evaluation) and then track the send date and due dates for items that require a response.
For every reservation and document, ViaTour automatically displays the status of each document (ok, late or pending) for easy viewing on screens and reports.
ViaTour's Late Document Form alert you to any traveler who has a late or missing document status.
ViaTour can create a custom "missing documents" letter that can be run prior to departure and automatically lists what is still outstanding. It is personalized per person and household and per missing document!
Payment Schedules
Set up your tour payment schedule to track deposits, payments 1, 2, 3 (or more), and final payments.
You can assign payment amount due, due date, and note the details of your terms and conditions.
This data is visible on the reservation form, so your reservation staff has instant answers when speaking with travelers. Also, the reservation Form displays a red alert if someone is overdue, a nice visual prompt!
On launch of the application, a Late Payment Form displays anyone with an overdue payment, so you can quickly process collections. Traveler balance report includes email and phone to facilitate collections.
Rooming Lists
ViaTour's full-featured rooming functionality tracks all the necessary room details, and makes generating rooming lists easy.
Escort and group leader reports automatically show any birthday and anniversaries during the tour, plus health, diet and emergency contacts, age and address information, when needed.
Quick summaries are available in the user interface, so you can quickly review totals by occupancy, and bed preferences.
Staff and frees can have rooms, cancelled travelers are automatically cleared, and notes allow you to accommodate special requirements, like needs handicap bath, or first floor only, no stairs.
The room grouping and "room near to" fields, ensure family and friends get rooms close to one another!
With clear hotel communication, hotels can give better service and your travelers get the best care possible!
Flights & Transfers
Air and transfers may be challenging to manage, but it is critical for success. After all, this is your traveler's FIRST and LAST experience of the trip. Provide travelers with reliable service and suppliers with clear information and instructions using our Flights & Transfers tool.
ViaTour's Flights & Transfers tool simplifies the process, removes the chance for error, and delivers wonderfully professional reports.
Flexible enough to account for all situations and easy to learn, you (1) create Flights, (2) link the flights into Journeys, and (3) Add Transfer details as needed.
Individuals can join or opt out of a group transfer, or unrelated individuals traveling separately may share a transfer because you'll know when they'll be arriving and where.
Flight reports are concise and well organized by alphabetical and chronological detail.
Vehicle & Seats
Vehicle & Seats lets you make specific traveler seat assignments on one or more tour vehicles.
This feature is used in various ways. Some of our clients may have multiple buses on a tour, and they can send hotels a room list by bus. The hotel is then ready for each bus's arrival.
This feature helps our student tour operators keep schools or grades together, on the right vehicle, and with the right teachers and chaperones.
This feature is smart, with built-in, industry-specific business logic, and you can:
Assign travelers to a seat one by one or in batch;
Block off seats that can't be assigned or used;
Auto remove cancelled travelers from seats;
Use more than one vehicle on a tour and create "vehicle groups" so tracking is flexible and controlled.

Each person can only have one seat per vehicle group.
View seating on screen and in reports. For quality assurance, reports also show passengers NOT assigned a seat.
Tour Options
Tour options let you create a variety of options offered to travelers on a tour and assign them on a per-person level.
Assign a price to tour options and track any revenue generated or commissions due. (See Commissions.)
Tour operators use this in a number of ways, including:
Pick Up locations, with directions, parking instructions and specific times
Insurance Coverage and Medevac add-ons, as well as designating "Insurance declined"
Meal Options (chicken or fish)
Pre- or Post-Tour extensions or options offered within a tour and more.
Tour options can be flagged as Auto Add – a default designation best for tours that have a single price, or base cost applicable to all travelers. Another use is to flag a needed decision, such as: "Pick up Location Not Assigned."
Print component lists, summary charts and more easily using reports.
Communicate with your travelers according to their assigned components. For example, write a letter to all travelers on "Group Air."
Create email lists, address labels and letters quite easily based on these assignments. Many ViaTour users set up a component to designate, Prefers Email, or Prefers Regular Mail.
Profit & Loss
In addition to invoicing travelers (as individuals or groups), ViaTour allows you to track payments made to and from your suppliers!
Your account codes match up to other systems and reports provides detailed and summary financial analysis, such as Profit & Loss per tour, over any time frame or by tour type.
Tour Services track real-time Account Payables, and on the reservation side, Components track the Accounts Receivables.
Permissions can be set to hide financials or prevent editing of transactions.
Integration Tools for outside accounting systems are available.
Group Tours
The Booked By feature in ViaTour lets you track travelers you gain through a partnership with a travel agent, travel planner, hotel concierge, etc.
Specialties
Specialties can be used for assigning topical keywords to Vendors.
For example:
For hotels, it might be a rating: 2-star, 3-star 4-star, etc.
For a guide, it might be his or her area of expertise: History, Architecture, Botany, etc.
For a tour company, it might be types of trips offered: Culinary, Historical, Adventure, etc.
In ViaTour, a vendor can also be your customer. In that way, you might also have Vendors Specialties such as:
For travel planners: Seniors, Cruises, Theater Tours, Overnights Trips
For alumni programs: Carries own insurance, requires promotion cost, requires 1 free, etc.
For travel agencies: Moderate, Luxury, and Ultra Luxury.
Services
Vendor Services are the contracted events of a tour that make up the tour itinerary.
From the vendor side of the equation, you can readily communicate many services over many tours to a single vendor, using the reports query tool and the Services by Vendor Report.
For example, a motor coach company can send to a casino the services (contracted events) for their weekly casino run. Or you can easily check if your favorite guide in DC is already booked, even if it's someone in your own company!
Emailing Services to vendors and partners is very easy, and you can design templates based on different Service Status (pending, confirmed, canceled, etc.).
Use Services to:
Create a tour "operational itinerary" based on which services your vendors are providing
Generate an estimate of total costs for an event
Generate an estimate of projected profit, based on projected costs of all events and your selling price, minimum and maximum participation
Generate a vendor schedule (services your vendor is providing by tour or across multiple tours) to avoid double bookings
Track changes to numbers held, terms, etc.
Track status (requested, pending, confirmed, canceled)
Track payment deadlines and more...
Payments
ViaTour transactions linked to a vendor will display on the Vendor's record.
You can also track a transaction as "on behalf of a traveler" which is useful when:
Forwarding deposits on a traveler's behalf to a cruise ship or tour operator
Paying out Commissions to travel agents
You may also mark a transaction as a receivable from a vendor.
Transactions that are entered as Wire Transfers automatically appear on Wire Transfer reports with the vendor's bank and routing information, along with any special instructions. For companies working internationally, this is a huge time saver!
Contracts
Pro Only: Use custom fields to generate custom contracts and see payment schedules and reminders automatically.
Commissions
Tour Commissions allows you to track your commissions earned or owed based on real-time data.
ViaTour has 4 types of commission structures available:
Per person: user specifies a reservation status and dollar amount for each person booked; allows you to exclude tour staff or comped travelers. For example, a commission might be $100 for every booked traveler.
Per person variable: same as previous, but the per person dollar amount increases at certain thresholds of participation, so 10-20 confirmed may earn $100 per person, while 21-30 earns $125 per person.
Percent of sales: user specifies reservation status and options that generate commissions, and the percent of the commissions. For example, Commissions may be set on a tour price, but not options that are added on, like air. You can have more than one commission on a tour, and track separately commissions from insurance versus commissions from tour price.
Variable percent of sales: same as previous, only the percent increases at certain thresholds of participation. For example, 10 to 20 confirmed = 10% and 21-30 confirmed = 12%. This can be associated with a specific item sold.
Wire Transfers
Transactions that are entered as Wire Transfers will automatically appear on Wire Transfer reports, displaying the vendor's bank and routing information, along with any special instructions. For companies working internationally, this is a huge time saver!
Tour Publisher
You can connect your website to ViaTour's back office database and display tour information dynamically online.
Prices, availability, images, and descriptive copy all stay connected "live" to ViaTour. This information can be cloned, making it easy to setup each new season.
The look and feel is entirely customizable, including the ability to add custom fields of information.
Online Bookings
You can choose from any one of our online booking models (Individual bookings, Travel Agent bookings, Family and Group bookings, and even parents booking for their kids on student tours) and if these don't meet your needs, we will work with you to create one to suit your own business needs.
Pricing and deposit amounts are retrieved dynamically from the ViaTour database. You can opt for auto bookings (reservations post automatically without any review) or manual posting, where you review orders and click a button to add to ViaTour.
When credit cards are processed, the transactions post directly to ViaTour, so all the legwork is done for you!
Traveler Portal
This feature allows your clients to log in and view their past or upcoming tours, make payments, and send you requests, download documents, and more.
Display each traveler's reservation details, flights, rooming/cabin requests, required forms and documents, and even invoices on clearly organized tabs.